Tortillis Camp-Amboseli
Tortilis camp-Amboseli Kenya
Tortilis camp gets its name after the Tortilis Acacia (the umbrella Throntree), a charming rustic tented camp built into the side of a hill, opposite the foot hill of Kilimanjaro, Africa's highest mountain. Your first view across the tree-studded plains towards the snow-capped mountain stops you in your trace as you walk into the camp. The camp is situated in many trees and shrubs, bustling with bird life.experience..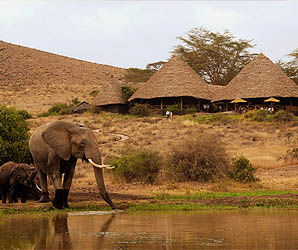 Information about Tortillis Camp Amboseli
Your room has plenty of fresh air, a tent raised on a wooden platform, protected by a makuti (thatched ) roof.

You enter from your private stone verandah with a comfortable lamu style day bed (perfect for rest in the afternoon) into the main tent.

The light yellowish-brown canvas, striking furnishings and local artefacts provide all tents with a stylish and relaxing charm.

The double or twin beds are generous and make you feel physically relaxed. From the dressing room, a door leads into the bathroom joined to the bedroom, which bathroom has got an excellent high pressure shower, hot spring-fed water and a flush toilet.

At Tortilis camp, children are welcome. Early meal times and a baby sitting service are offered, our knowledgeable guides know how to offer a bush walk or safari game drive 'come alive' for travellers who are young during the day.

During the day when it is hot, children enjoy a refreshing dip, with iced drinks offered at the poolside bar, while big people can rest by the swimming pool.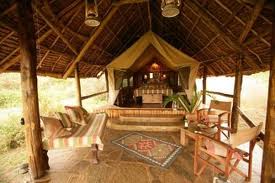 Amboseli is a place of contrasts, in the hot dry season, mirages show up on the dusty horizon; all over the year, the elephant group of animals follow their very old rituals, moving from the Tortilis forests to the swamps everyday. During the green season, water birds like flamingo, pelican, Egyptian geese, flock to the park and the arid plains turn bright green over the night.

The traditional cultural heritage in Amboseli is strong. The Maasai communities stick to the lifestyle of long ago, herding and trading cattle, a kind of life which they will share with you in their manyattas (Maasai homes), a circle of dung and mud huts protected by a barrier of thorns against the animals that kill and eat other animals.

Tortilis camp has collected funds to construct a school for the local communities., tours to the school and the communities around can be arranged.

Walks into the bush are led by Masai guides at Tortilis camp, while giving knowledge about traditional medicine and importances of local flora and Masai folklore.

Moving into the bush is part of the magic of a safari: following a track or smell left by the animals passing camp the previous night, smelling the crushed leaves where animals have eaten, listening to the birds singing, as well as looking at them overhead, you touch and feel the wild this way.

Summary of facilities at Tortilis camp:

It is found at Amboseli National Park South of Nairobi in Kenya.

It borders Tanzania.

Un obstructed view of mount Kilimanjaro.

Took the British Airways Regional Award for Ecotourism in 1995.

17 large tents, put up on wooden decks and sheltered with makuti (thatched ) roofs. 10 having king size beds, and 7 having twin beds.

Large sheltered verandas, all having a lamu day bed, wonderful views and privacy.

Swimming pool.

Gift shop.

Guided nature walks bush breakfast.

Hilltop sundowners.

Laundry.

Airstrip.

Road distance is about 31/2 hours from Nairobi.

Safaris to Tortillis Camp Amboseli
From Nairobi

2 Days Amboseli National Park
4 Days Tsavo East /West/Amboseli

From Mombasa

3 Days amboseli National Park Safari
3 Days Tsavo East/ Tsavo West/Amboseli Safari
3 Days Tsavo East Amboseli

Other Safaris From Mombasa ( Mombasa Safaris)
Other Safaris From Nairobi( Nairobi Safaris)



Morliner of UK says
review for Tortillis camp Amboseli Date 25,09,2010

"A well run tented bush camp at the outskirts of Amboseli National Park with breathtaking scenic view, the staff was very profesional and friendly. Although the camp is not really designed for bringing your toddler along we felt very well taken care of, including our then 1.5 Y old boy. A dip in the small and cold pool is refreshing. The mangement takes ecotourism serious.
A memorable event was the scenic sundowner with drinks and snacks and lovely Tortilis staff .
"
Write your Review click here

If you want a tailor made itinerary to Amboseli national park please don't hesitate to contact us