Aberdare National Park
The Aberdare National Park is part of the Aberdare Mountain Range, a fascinating region of Kenya. According to traditional Kikuyu folklore they are one of the homes of Ngai (God). Mountain ranges and peaks soar to around 12,900ft (3,930m) giving way to deep V-shaped valleys with streams and rivers cascading over spectacular waterfalls – this area is a must for landscape lovers. From its vital catchment area the Aberdare Rainforest feeds the entire local and Nairobi water supply. Above the forest is a belt of bamboo, a favourite haunt of the Bongo, a rare and elusive forest antelope.
At 10,000ft (3,000m), the bamboo gives way to moorland, home to eland, spotted and melanistic serval cats. Other features are the giant alpine varieties of lobelia, groundsel and heather. Ideal for walking, picnics, camping and trout fishing in the rivers, the moorlands are reminiscent of the European highlands.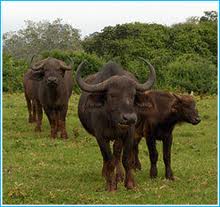 Deep ravines cut through the forested inclines, through which hidden trout streams flow and waterfalls cascade down hundreds of feet of rock face.

Above the forest stretch miles of open moorlands,broken by lichen - covered rocky outcrops, hills and crags,thickets of giant heath and tussock-grass bogs.In the forest are red Duiker, suni, Bushbuck - some of the old males are nearly black - Elephant, Buffalo, Giant Forest Hog, Leopard- all black examples have been recorded - and colobus monkey.
The moorland thickets are the home of Bush Duiker and Black - fronted Duiker and also the Black Rhino. Bird life is abundant and varied. Perhaps the most conspicuous group is the sunbirds. Four species may be seen - Tacazze sunbird, brilliant metallic violet and bronze with a black belly; Golden-winged sunbird, scintillating coppery-bronze with golden yellow edged wings and tail; the emerald green Malachite Sunbird, and the tiny double collared Sunbird with metallic green upperparts and throat and scarlet chest band.( Bird Safaris are organised here)
Game birds include Jackson's and Scaly Francolins in the forest and the very local Montane Francolin on the moorlands. Birds of prey are specially interesting and crowned and Ayres' Hawk Eagles, Mountain Buzzard, Rufous-breasted Sparrow Hawk and African Goshawk are usually to be seen.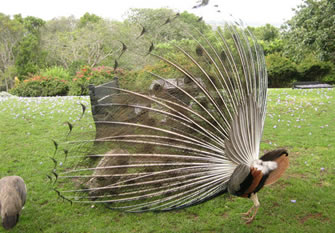 Birds in the higher moorland are the Scarlet-tufted Malachite Sunbird - but rare here than in Mount Kenya - The tame and confiding Mountain or Hill Chat, Augur Buzzard, Slender-billed Chestnut-wing Starling and White-naped Raven.
There is a variety of accommodation. Treetops tree-house lodge and the Ark, a lodge built in the shape of Noah's Ark. Night gameviewing is provided by the lodges in the Salient area of the Park with excellent sightings of elephant, buffalo, lion and rhino, drawn to the waterholes and saltlicks each evening.
Overall within the Aberdare National park there are two lodges (total 219 beds), three self-help band sites (total 18 beds), eight special campsites (requiring advance booking) and one public campsite (moorland). There are five picnic sites.

Climate:

Features:
Mountain peaks
Moorlands
Waterfalls
Rainforests
Caves
Twin hills
The Kimathi hideout
Facilities:
Lodges
Campsites
Bandas
Maps
Picnic sites
Activities:
Night game viewing
Trout fishing in ice - cold rivers
Camping
Hiking
Nature tails

Access Roads: The park is accessible on tarmac from Nyeri and Naro Moru on the eastern side.

Parks Roads: Park has 60 km and 396 km of primary and secondary roads respectively. The road network is adequate though it is advisable to use a 4 wheeldrive during the wet seasons.

Airstrip: Mweiga Airstrip and Nyeri Airstrip.

Accommodation:

Lodges

Aberdares Country Club

Hotels(Outspan hotel outside the park)

Bandas

Fishing lodge

Ruhuruini(Camp Tusk)

Sapper hut