Amboseli National Park
Amboseli National Park is located in Loitoktok District, Rift Valley Province of Kenya. The ecosystem mainly savannah grassland spread across the Kenya-Tanzania border. The park is famous for being the best place in Africa to get close to free-ranging elephants among other wildlife species. Other attractions of the park include opportunities to meet the Maasai and spectacular views of Mount Kilimanjaro, the highest free-standing mountain in the world.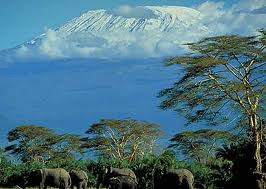 Access:
By Road: The main road into the park is from Nairobi via Namanga (240 km) on the Nairobi - Arusha Road, through Meshanani Gate. The other road is from Nairobi via Emali (228 km) on the Nairobi - Mombasa Road. Access from Mombasa is mainly through Tsavo West National Park via Kimana (Olkelunyiet) Gate.
By Air: Airstrips: The park has a single airstrip for light aircrafts at Empusel gate. Other airstrips exist at Kilimanjaro Buffalo Lodge and Namanga town
PARK GATES:
Kulunyiet Gate
Meshanani Gate
Kitirua Gate
Iremito Gate
Airstrip Gate
SIZE / LOCATION
390.26 Km2
Loitoktok District, Rift Valley Province
CLIMATE:
Temperature ranges from 20-30 c and rainfall from 200mm – 700 mm
Two rain seasons: Long rains – March & April & short rains – Nov/ December
MAJOR ATTRACTIONS
Large Herds of Elephants
Mt. Kilimanjaro
Big Five
Observation Hill which allows an overall view of the whole park especially the swamps and elephants,
Swamp below observation hill hosts many elephants, buffaloes, hippos and a variety of water fowls like pelican, Egyptian goose
Contemporary Maasai culture and indigenous lifestyle
Safaris to Amboseli National Park

From Nairobi

2 Days Amboseli National Park
5 Days Tsavo East /West/Amboseli

From Mombasa

3 Days amboseli National Park Safari
3 Days Tsavo East/ Tsavo West/Amboseli Safari
3 Days Tsavo East Amboseli

Other Safaris From Mombasa ( Mombasa Safaris)
Other Safaris From Nairobi( Nairobi Safaris)

WILDLIFE:
Leopard, Cheetah, Wild dogs, Buffalo, Rhino, Elephant, Giraffe, Zebra, Lion, Plains Game, Crocodile, Mongoose, Hyrax, Dik- dik, Lesser Kudu, and Nocturnal Porcupine
Prolific birdlife features 600 species
WHERE TO STAY:
Camping Facilities
Ol-Kilnyiet Public Campsite near Amboseli Park Headquarters
If you want a tailor made itinery to Amboseli national park please don't hesitate to contact us.
Game viewing
Camping
Viewing Mt. Kilimanjaro
Bird watching
Photography