Samburu Game Reserve
The Samburu Game Reserve lies 200 miles north of Nairobi in the hot and arid lowlands of the vast northern region of Kenya, just a few kilometres north of the equator, adjoining with Buffalo Springs and Shaba National Reserve. The Reserve was set up in the late 1960's, around the richest stretch of the Ewaso Ngiro River. During dry season plentiful wildlife come to the river to drink on the shaded banks, and during wet season you can see animals that don't wander in the region as much.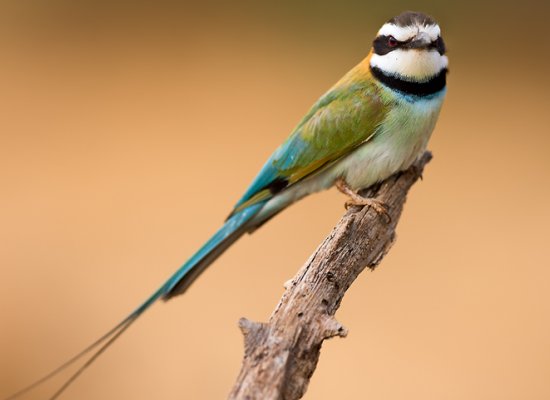 A lot of animals in this reserve are very rare and not found in other parts of Kenya. These include the reticulated giraffe, Grevy's zebra, the Beisa oryx with its lovely long straight horns, all found only north of the equator, as well as the blue legged Somali ostrich, waterbuck, Grant's gazelles, dik dik, duiker, olive baboons, lions, spotted and striped hyenas and leopards. Particularly striking is the long-necked gerenuk, a graceful antelope that spends much of its time in a bipedal stance seeking the tenderest shoots in the sparse scrub that grows in this harsh terrain. In the river many crocodiles feed on the abundant wildlife.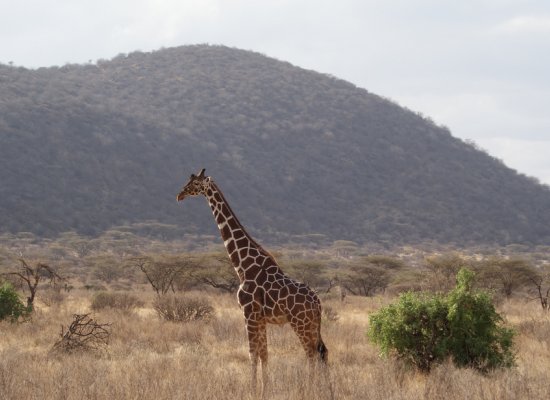 The Samburu region encompasses not only the Samburu but also the Shaba National Reserves and Buffalo Springs, and includes the adjoining grasslands and thorn scrub of Loisaba, Laikipia and Lewa Downs extending to the foothills of Mount Kenya. With the magnificent Ewaso Ngiro River running through the region and with its characteristic African landscape of acacia forests, doub palms and distant hills, the Samburu region is more than just well worth a visit.
---
Safaris To Samburu Game Reserve
3 days Samburu
---
If you want a tailor made itinerary to Samburu Game Reserve please don't hesitate to contact us


Facts on Samburu Game Reserve
Samburu National Reserve Climate
The climate in Samburu is hot and dry during the day, and cool during nights and evenings.
Average maximum temperatures are around 30°C (85°F) with minimum tempatures of approximately 20°C. Most rain falls between March and May, with short rains falling from November to December, recording a total maximum rainfall of 350mm. July through October and January through March are mainly hot and dry.
How to Get to Samburu National Reserve
By Road: Use your own vehicle, take public transportation, or book an open-topped minibus or safari van tour with a tour guide. The park is located about 345km (approx. 214 miles) from Nairobi, or about a five-hour drive. The roads and tracks to the park are all weather. The reserve is accessible by road via Isiolo and Archer's Post.
By Air: The game reserve is accessible by air and there are daily flights from Nairobi to Samburu that you can book online. Travel time is about 45 minutes and the flights land at the park's airstrip. Private charter flights are also allowed to use the airstrip.
What to See & Do in Samburu
Game Viewing: In the southern part of the park, you are guaranteed to see most of the Kenyan animals found in Samburu, namely: cheetahs, lions, leopards, impalas, buffalo, hippos, and dik-diks, as well as the native gerenuk, Grevy's zebra, reticulated giraffe and Beisa Oryx. You are guaranteed to see most animals during the dry season as they converge at the Usaso Nyiro River, their main source of water during the long dry weather. Elephants are also spotted during this time, and you can watch the Nile crocodiles swim in the river.
Bird Viewing: Samburu National Reserve is a paradise for bird lovers, with over 350 species of birds already recorded. You can enjoy a colorful assortment of birds such as vultures, kingfishers, marabous, bateleurs, guinea fowl, Somali ostriches and many more.
Samburu Cultural Tours:
Visit the local Samburu villages where you get a chance to interact with the colorful Samburu people in their traditional setting and experience their culture. This is a good opportunity to purchase traditional Samburu souvenirs, art and collectibles.