TSAVO WEST NATIONAL PARK
Tsavo West National Park is a 9,000 sq km game park in southern Kenya, located about 200 km south-east of Nairobi. Separated only by the Mombasa/Nairobi road from Tsavo East, Tsavo West is part of the entire Tsavo eco-system.
Famous for the Mzima Springs, with its unique underwater hippo observatory, and for the Shaitani lava flows and Chaimu volcanic crater, the park offers plenty of opportunity to explore on foot. In addition the park has recorded over 600 species of birds. The park also holds an important rhino sanctuary and is famous for elephant.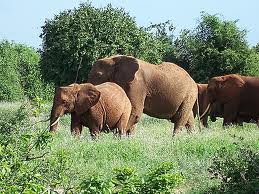 Prior to the park's establishment in 1948 with its sister park, Tsavo East National Park, the Waliangulu people roamed the park hunting elephant with bow and arrow. British forces in World War I built forts along the Tsavo River in defense of Von Lettow Vorbeck's intrusion from the south and engineers built a railway through the bush land, encountering man-eating lions.
Since that time, much has changed. Over 1,000 miles of road exist. The Kenya Wildlife Service maintains numerous vehicles, buildings, bridges and roads. In addition, there are over 300 personnel involved in protecting the wildlife, maintaining the Park and serving the visitors.
The park offers numerous accommodation options including Finch Hattons Camp, one of Kenya's best luxury tented camps, built around a series of hippo pools.
Tsavo is a vast ecosystem where the relationship between wildlife and its environment has been allowed to take its own natural course. The park offers diverse habitats including mountains, rivers, forests, plains, lakes and wooded grassland.
Game includes: leopard, cheetah, buffalo, rhino, elephant, giraffe, zebra, lion, plains game, crocodile, and plenty of additional small mammals, birds and insects.
---
Safaris To Tsavo West National Park
2 days Tsavo West
2 days Tsavo east west
3 days Tsavo east west
3 days Tsavo east west Amboseli
4 days Tsavo east west Amboseli
4 days Tsavo east west Taita
---
If you want a tailor made itinerary to Tsavo West please don't hesitate to contact us


FACTS ON TSAVO WEST NATIONAL PARK
Climate in Tsavo West National Park
Tsavo West National Park is just a few degrees south of the equator. The temperature remains the same throughout the year at 27-31°C (81-88°F) during the day and 22-24°C (72-75°F) during the night. Humidity is high from December through April.
The rainfall defines the seasons. The long rainy season, or monsoon season, is from March to May. The shorter rains come in October through December.
How to Get to Tsavo West National Park
By air: There are several good airstrips for chartered aircrafts at Chyulu, Mtito Andei, Tsavo, Jipe, Maktau, Kasigau and Ziwani gates.
By Road: From Amboseli (52km), head for the Chyulu Gate. From Nairobi (272km), enter using the Mtito Andei Gate. From Mombasa (188km), use either the Tsavo Gate near Manyani, or the Mtito Andei Gate. There are also entrances at Maktau, Ziwani and Jipe, depending upon where you want to be within the national park.
What to See and Do at Tsavo West National Park
Tsavo West National Park offers many activities and tourist attractions, as well as wildlife safaris.
Lake Jipe attracts a lot of wildlife and is a good place for bird watching. It is fed by the run-off from Mount Kilimanjaro and the North Pare Mountains. Take a boat excursion on the lake, or explore the swamps at each end.
Mzima Springs is at the north end of Tsavo West. Water from the Chyulu Hills runs from beneath the lava ridge and forms several natural pools. Fringed with palm trees, these pools are popular watering holes for birds and African wildlife.
You can also watch the hippos bathing underwater here
.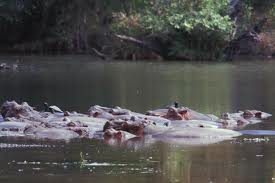 Visit the Lava Flows and Caves for geological interest; explore the caves or hike along the lava flow.
Bird watching safaris are best between October and January, featuring many migratory birds including African skimmers, red and yellow bishops, goshawks, buffalo weavers and palm nut vultures, to name a few. The swamps on Lake Jipe and the acacia woodlands also attract many birds. In fact, over 500 bird species have been recorded in the park, including ostriches, kestrels, buzzards, starlings, weavers, kingfishers, hornbills, secretary birds and herons.
The cliff faces in Tsavo West offer some of the best rock climbing in Kenya. The views over the savanna plains are spectacular, and Mt Kilimanjaro can also be seen on occasion. Visit the 300m high, east side of Kichwa Tembo, the Great Tsavo Chimney and the Ivory Tower on Elephant Rock. Climbing can be arranged through the Mountain Club of Kenya