Mara Intrepids Camp
Mara Intrepids Camp enjoys one of the most spectacular locations in the world's best-known wilderness. It sits above a sweeping bend in the Talek River at the confluence of the Masai Mara's four game-viewing areas. Mara Intrepids camp is a short drive from the Mara River, where more than a million wildebeest and zebra make their perilous migration crossing every July and August.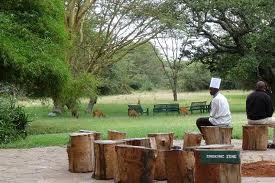 For the remainder of the year, the camp offers some of the world's finest game viewing, with large local populations of plains game, elephants, rhinos, buffalos, and all the big cats. Mara Intrepids is 298 kilometers due west of Nairobi - a six hour drive on well-maintained roads and 45 minutes by air.


ACCOMMODATION
There are 30 luxury tents, which are spread across a large riverside site to ensure guests the privacy and peace.

Each tent is furnished in the classic style of the grand Kenyan safaris, with large four-poster beds and handsome reproduction furniture offset by modern en suite bathrooms with hot showers, flush toilets and all modern amenities.

Each tent sits on a shady raised platform, with sweeping views over the riverbanks where a wide variety of animals come to drink.

Mara Intrepids is divided into four distinct areas, each with its own open-air dining area and 'mess tent', where private meals and functions can be arranged.

Dinner is usually served in a large dining room under a traditional makuti-thatch roof, while breakfast and lunch are hosted on a breezy terrace beside the riverfront swimming pool.

The main bar overlooks a suspension bridge leading to a leopard-baiting area, where the most exquisite residents make an appearance most evenings.

Beside the bar is a fully equipped conference room, where Maasai naturalists deliver evening slide shows on the local culture and wildlife - and where corporate groups can do a spot of 'bush business'.

Small riverfront dining areas with private catering.

Freeform swimming pool with sunbathing terrace.

Conference room with business and video facilities.

Elevated game-viewing platform with drinks service.

Safety deposit boxes for guests' valuables.

Room service for snacks and beverages.

Resident doctor available 24 hours.

Safaris To Masai Mara
3 Day Masai Mara safari by Road
3 Days Migration Trail Safari By AIr
4 Days Masai Mara /Lake Nakuru
4 Days Masai Mara Safari

Other Safari To Lake Masai Mara National Reserve
From Mombasa( Mombasa Safaris)
From Nairobi ( Nairobi Safaris)

If you want a tailor made itinerary to Masai mara national Reserve please don't hesitate to contact us




Activities In Mara
Mara Explorer camp has got nature experiences and other activities, which include the following: -

Hot Air balloon Safaris.

Arrangements for Lake Victoria Fishing Safaris.
Riverside bush breakfast, sundowners and dinners.
Lectures and shows about Maasai culture and wildlife.

Private game drives with expert local guides.

Walking Safaris in the Mara Conservation Area.

Between June and September is when Mara Explorer enjoys prime views of the spectacular wildebeest migration and for the other remaining period of the year, its normally rewarding daily game viewing, and this is mainly due to the fact that it is situated in the heart of the reserve.

The camp also provides guests with ultimate wilderness retreat, where you can view elephants or giraffes drinking from the privacy of your verandah-or your own outdoor bathtub