Mara Bushtops Camp
Mara Bushtops Camp is nestled on the edge of this intoxicating scene, creating an oasis of luxury for serious safari seekers in Masai Mara. Within the 200-acre ranch of Mara Bushtops camp, you'll find an exciting blend of tranquility and adventure where you can relax in first class comfort surrounded by one of nature's living masterpieces.
Set amid the 60,000 hectares of the Mara Siana Wildlife Conservancy, directly bordering the Masai Mara itself, Mara Bushtops boasts a sensational location. Perched on top of a hill with a scenic valley to one side, the camp lies just ten minutes' drive from the main gate of the National Park and within striking distance of the beautiful Mara River where the famous river crossing of wildebeest and zebras takes place during the migration.
Without doubt one of the world's most spectacular game reserves, Kenya's treasured National Reserve - the Maasai Mara - provides a breathtaking backdrop to the ultimate Safari experience. Taking its name from the region's vast 'dotted plains', the landscape is a constantly moving tableau, literally teeming with an endless variety of wildlife. In this magnificent wilderness you can immerse yourself in myriad new sensations; waking to the call of lions and buffalo, thrilling at the closeness of wildebeest, zebras and gazelles, basking in the glow of a crackling camp fire at twilight, and dreaming under a dazzling night-canopy of stars.
Accommodation
Embracing a philosophy of environmental conservation, Mara Bushtops Camp has been cleverly designed to make the most of natural resources as well as modern amenities. While the camp uses solar power for most of its energy needs, no expense has been spared on the fittings provided in the 12 spacious and fabulously appointed luxury tents, open on three sides to the great outdoors and each with its own special view.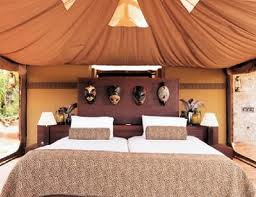 Why not lounge away a few hours on your own private wooden deck, where a telescope ensures abundant opportunity to view the magnificent game roaming the reserves below? Or indulge in a languorous afternoon wallow in your own outdoor sunken tub - the perfect prelude to a relaxed Sundowner at twilight, delivered by one of Mara Bushtops' discreet butlers direct to your veranda.
Featuring beautiful interiors designed for the ultimate in comfort and convenience, Mara Bushtops' private accommodation has everything you need for a luxurious stay. While Mara Bushtops boasts the biggest tents in East Africa, it has also been equipped with modern furniture and fittings chosen for their quality and aesthetic appeal. Each tent has large comfort beds, delightfully fitted en-suite bathroom with indoor and outside shower, a dining table and writing desk for your personal use.
24 hour butler service is available, allowing guests to dine from a mouth- watering a la carte menu in the privacy of their own tent, and a laundry service is also provided on request.
Plunge into the cool blue waters of Mara Bushtops private pool and touch the infinity of the landscape. Where gentle ripples meet the horizon, you can float and dream amid spectacular views, suspended before a vast and seemingly endless backdrop of hazy plains and purple mountains. Dip into pure luxury and dry in the balmy African breeze on the sun-drenched deck, totally refreshed.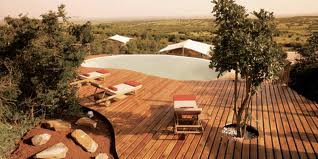 Perched in a uniquely advantageous position on top of a hill, Mara Bushtops inviting reception and lounge area offer guests a cool, quiet corner to enjoy stunning views of the Masai Mara, as well as a sociable gathering place in the evening. Mingling comes easily in this inspirational space, where attractive wooden decking links outside to inside, and camp's friendly bar provides a refreshing welcome after the heat and excitement of a day's safari. From one of the many wooden decks you can gaze across the camp's immaculate grounds with its own natural wetland system, to the distant plains and faraway hills, with nothing to spoil a simply perfect panoramic view.

Safaris To Masai Mara
3 Day Masai Mara safari by Road
3 Days Migration Trail Safari By AIr
4 Days Masai Mara /Lake Nakuru
4 Days Masai Mara Safari

Other Safari To Lake Masai Mara National Reserve
From Mombasa( Mombasa Safaris)
From Nairobi ( Nairobi Safaris)

If you want a tailor made itinerary to Masai mara national Reserve please don't hesitate to contact us




Activities In Mara
Mara Explorer camp has got nature experiences and other activities, which include the following: -

Hot Air balloon Safaris.

Arrangements for Lake Victoria Fishing Safaris.
Riverside bush breakfast, sundowners and dinners.
Lectures and shows about Maasai culture and wildlife.

Private game drives with expert local guides.

Walking Safaris in the Mara Conservation Area.

Between June and September is when Mara Explorer enjoys prime views of the spectacular wildebeest migration and for the other remaining period of the year, its normally rewarding daily game viewing, and this is mainly due to the fact that it is situated in the heart of the reserve.

The camp also provides guests with ultimate wilderness retreat, where you can view elephants or giraffes drinking from the privacy of your verandah-or your own outdoor bathtub