Samburu Sopa Lodge, Kenya Safari
Samburu Sopa Lodge is nestled on a hilltop in the middle of the northern part of Samburu National Reserve, close to the home range of elephants, grevy zebra and gerenuks. With in short driving distance to the airstrip or the picturesque Uaso Nyiro river, makes it an ideal accommodation of choice. Samburu Sopa Lodge directly overlooks the beautiful Matthew ranges and on a clear day the Mount Kenya is visible in the distance.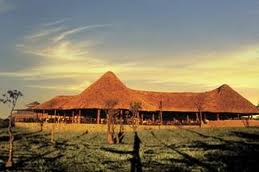 Accommodation
There are 60 double rooms designed as dual adjacent cottages. The cottages, to a degree, mimic traditional Samburu style architecture. All rooms have ensuite showers, toilets and wash basins. All rooms have a patio/balcony where clients can relax and enjoy superb views of the Matthew ranges, the swimming pool or the water hole (depending on room). Samburu Sopa Lodge has one room designed to accommodate clients who are disabled.Meals are served in the main restaurant in buffet style; the lodge also provides waited service. The restaurant is open air and has superb views of the landscape and of the water hole and can accentuate the dining experience should wildlife appear at the water hole during the hot days.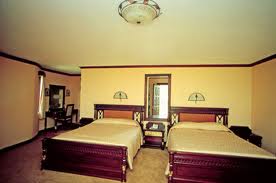 The restaurant, lounge and surrounding areas are lit softly in the evenings creating a relaxed ambiance for all the guests to gather around for tea and coffee after the meals.

Breakfast times are: 6.30-10.00 AM; Lunch times are: 1.00-3.00 PM; Dinner times are 7.30-9.30 PM
The main bar near the pool and lounge area at the Samburu Sopa Lodge is open throughout the day till midnight.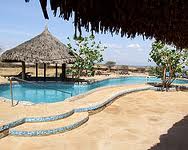 Scrumble of Ontario says
review for samburu sopa lodge Date 24,03,2010
"We just got back from our wonderful safari. We spent 3 nights at the Samburu Sopa and enjoyed every minute of our stay. We had great service nightly from Ceasar in the restaurant. I was not feeling well when we arrived after a long hot drive and the restaurant gladly got me some peanut butter to have for dinner because I wanted to eat very plain to settle my stomach. The next day several of the staff inquired as to how I was feeling. One of the very pleasant parts of the visit was the gentleman who was at the gate to greet us daily - we nicknamed him the General - he was apparently trained by the British military in the past he stood at attention and saluted us. The pool was nice since it was so hot while we were there. We got to see a small leopard at the watering hole one night "
Write your Review click here

If you want a tailor made itinerary to Tsavo national Park please don't hesitate to contact us