Galdessa Camp - Tsavo East, Kenya Safaris
Galdessa is a small eco-camp located in Kenya's largest park, Tsavo East. The word Galdessa means baboon in Walangulu, the tribe that used to lived in the area of Tsavo hunting elephant with bows and arrows. The site is located 15 kilometers upstream from Lugards Falls, famous for its beautiful rock formations, where there is also an airstrip, which can be used for private aircraft transfers. Galdessa Camp's remote access in a very wild part of the park ensures that tourism is kept to a minimum, enhancing the intimacy the camp,and guests, enjoy with nature. The accommodation and activities are geared at the discerning traveler looking for a private experience in the African bush.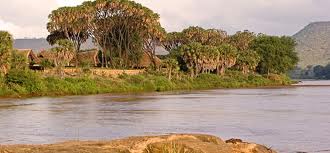 Tsavo is still very much pristine and you will live your experience without the inconvenience of mass tourism, which does not come to this remote yet magical part of the park. Wildlife regularly use the campgrounds, especially elephants at least 8,000 in number, constitute Kenya's largest population, a daily sign that the Camp and Friends of Tsavo Organization have succeeded in minimizing the impact on the environment. The camp is located in the heart of one of Africa's most successful conservation projects, and is lucky to have 48 black rhinos in its direct vicinity.
ACCOMMODATION
Under the shade of the Doum palms, the camp's 8 spacious "bandas" are comfortable, fresh, and elegant. Set well apart, they all face the river and the Yatta Plateau, the world's largest fossilized lava flow (over 200 kilometers long). The term "banda" is an African word describing a bungalow-like structure enhanced by the best attributes a true-tented camp accommodation has to offer.

• Two of Galdessa's bandas are organized in suites, with their own, separate thatched sitting room where private meals may also be served. The most remote banda is ideal for honeymooners in search of privacy, with its own sitting room, viewing platform and water wallow.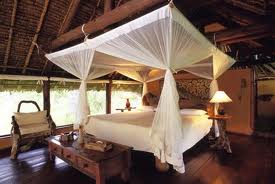 • The Galdessa room is set under a thatch structure for coolness and comfort, with a spacious en-suite bathroom/dressing room. Perfectly adapted to the environment, it is a refined expression of the safaris of yesteryear. The walls are made of canvas and mosquito netting tastefully set in timber frames. The natural woods, thatched roofs, stone tables and mosquito netting form a romantic interior which enhances the contact with the rhythms and sounds of the natural world outside.

• To underscore their commitment to eco-tourism leadership in Kenya, Galdessa Camp uses solar power and recycles their waste, and has even installed a water treatment plant.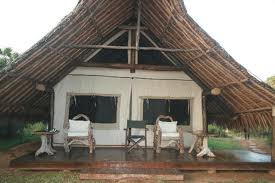 DebbieHutchi of Spain says
review for Galdessa Safari Lodge Date 26,04,2010
"The location is really beutiful, the rooms are amazing (what a bed!), the staff were incredibly friendly and nice, great service and food... I can't say enough good things about Galdessa, I would love to go back. My family and I all loved it and we strongly recommend it. We were there for three nights and it was fantastic. I would suggest more than one night stay because you will definetly want to stay longer. And don't miss the walking safari along the river. "
Write your Review click here


If you want a tailor made itinery to Tsavo national Park please don't hesitate to contact us