Ndololo Safari Camp-Tsavo East Safari Package
Ndololo safari camp enjoys one of the most Spectacular sceneries in Tsavo East. Kenya's Preserved game renowned for its Concentration of diverse wildlife and home to The fabled "Man Eaters of Tsavo.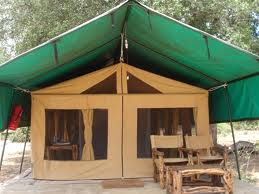 The luxurious tended camp lies on the broad, Thickly forested banks of Voi River in Tsavo East
National park. Its accessible throughout the Year by all weather roads and is located 7km. From Voi gate, 63km from Buchama gate and 36 Km from Manyani gate.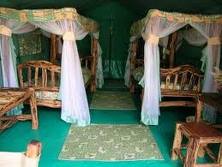 This exclusive camp offers 20 luxurious, Well-spaced tents each self contained with a Verandah and bedroom. Some of the tents have Single, double and triple beds to cater for Different tastes. All are furnished in a classic Blend of ancient and modern, rich African fine Hand carved olive wood furniture, with modern Amenities,
The camp offers unsuited facilities fully equipped Kitchen, dining room where well prepared.

And delicious cuisine is served and a well equipped Bar serving a variety of drinks. Bush Barbeques are also served. The reception center Offers a variety of African curios, books and momentos.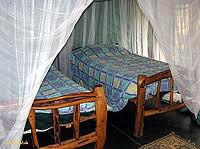 The indigenous forests around the camp are Home to the big five, Elephant, Buffalo, Rhino, Lion and Leopard. The environmental are Also frequented by Ostrich, Zebra, Giraffes etc while the trees are filled with melodies of a wide variety of birds. All these enriched endowments.
After checking in from the evening game drive, visitors take supper at the camp where they share the rich history of Tsavo National Park, the stories of famous man eaters of Tsavo, African culture and general information on Kenya with the very experienced staff of the camp. Visitors are also instructed on safety measures while they are at the camp.

If you want a tailor made itinery to Tsavo national Park please don't hesitate to contact us