Ngutuni Lodge - Tsavo East, Kenya Safari
Ngutuni Lodge is conveniently situated, some 15 minutes from the Tsavo East National Park main gate and about half an hour from Tsavo West National Park and the Taita Hills. It is the ideal base from which to visit these excellent attractions, on easy excursions, returning to the comfort and friendly welcome from familiar faces at Ngutuni Lodge.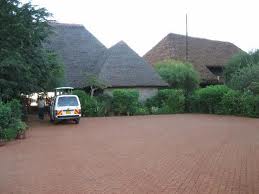 Ngutuni Private Game Sanctuary, once a share of man-eaters, as the lions of Tsavo, who terrorized workers on the Kenya - Uganda railway that was called. European armies camped in the area during both World Wars. Today cameras have replaced guns, visitors have replaced soldiers and lions have reverted to culling plains African game, in the eternal cycle of life.

Accommodation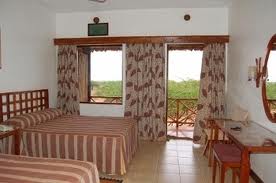 All 48 bedrooms are tastefully decorated and comfortably furnished.

Nestling deep within the Ngutuni Game Sanctuary, this spectacular tier two safari lodge offers the perfect place to secretly observe the wonders of Kenya.

The buildings are elevated and provide panoramic views over the endless savannah of Tsavo National Park. An inviting water bole offers a kaleidoscope of color and variety as animals satisfy their thirst.

They are set in four two-story blocks of 12 rooms each and are situated on either side of a large central lounge, bar and dining area.

Many are interconnecting, and all have en-suite facilities with shower, one double and one single bed each, telephone, and a balcony perfect for undisturbed game viewing.

Activities at Ngutuni Lodge
A walking safari in the wild, escorted by our resident game rangers, is an experience not to be missed. The leisurely walk covers about four kilometers and usually ends on the Ngutuni Hills, after which the sanctuary and the lodge are named.

Escorted night drives are a regular feature in the sanctuary. They offer the opportunity to see nocturnal animals in the silence of night


Jim of Denmark says
review for Ngutuni Lone Date 26,04,2010
"Has to be one of the "things to do before you die" absolutely breathtaking! walking through reception to view hundreds of buffalo and elephant within 15ft at the waterhole. Amazing! very clean, staff very helpful and food brilliant. . "
Write your Review click here


If you want a tailor made itinerary to Tsavo national Park please don't hesitate to contact us