Voi Safari Lodge - Tsavo East, Kenya Safaris
Voi Safari Lodge is perched on the top of a cliff-faced hill, and is uniquely designed to be a hinge like structure overlooking Kenya's Tsavo East National Park plains extending as far as the undulating terrain of the Yatta Plateaus.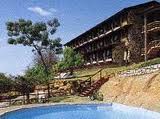 This vantage positioning of the lodge has made it a stop over for many safari adventures, nature lovers and holiday makers who are assured of sampling Kenya's wildlife attractions that continuously beat a track to the three water holes sunk by the lodge below the cliff.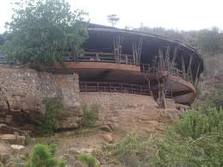 During the dry season the waterholes are the convergence of a lot of wild animals moving almost in a trance as if urged on by some kind of telepathic communication, the sight is just fantastic. The location evokes a romantic inspiration that once moved a visiting British poet who now incorporated his experience at the lodge in most of his poems, to describe it as sample of wonder that is better than a dream.
Accommodations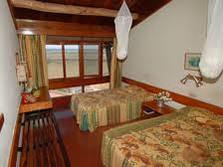 The lodge is also proving popular with the travelers along the Mombasa - Nairobi highway, located 165 km from Mombasa and has the advantage of being within a park that is served with a good infrastructure including communication facilities.

The 52-roomed lodge is designed to blend with the rocky surroundings and boats of a unique dug up rock swimming pool with the surroundings dotted by wild flora planted around the lodge.

Activities;
Game driving safaris

Game viewing terrace and tunnel

Two restaurants and two bars

Dug up rock swimming pool


Tom of Canada says
review for Voi Safari Lodge Date 26,04,2010
"After reading other reviews before our safari I was a bit apprehensive about this lodge, but I really liked it. The rooms were basic but great view, regarding the cold showers if you let the water run for 5mins it came warm, mosquito nets etc were in rooms. Food was good and drinks were not too expensive. The best bit was the watering hole and how close you can get to the animals, it was so good we nearly did not want to do the afternoon game drive.

The pool also had a great view, it was nice and refreshing and just added to the fun.
Overall a great lodge. "
Write your Review click here

If you want a tailor made itinerary to Tsavo national Park please don't hesitate to contact us