Voi Wildlife Lodge - Near Tsavo East, Kenya Safaris
Voi Wildlife Lodge prides itself to be a rugged and wild, yet tranquil and serene. The idea for Voi Wildlife Lodge began in 1999 with a dream about an ideal location in the Kenyan wilderness that offers a true bush experience like no Kenya safari lodge could offer. With the wildlife close by, environmental considerations were made in designing the lodge.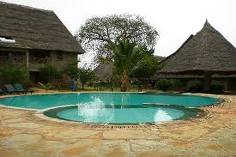 Accommodations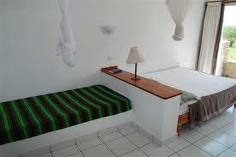 Accommodating up to 300 guests, all rooms have spacious en-suite bathrooms and are furnished in African decor that is replicated throughout the lodge. The luxury rooms comprise two four-poster beds and views of the Savannah, which one can enjoy from the comfort of one's balcony or terrace.
The lodge also has tents,with en- suite bathrooms. Each tent accomodates two beds and gives you the feeling of camping in the wild.

There are a number of rooms specifically designed to cater for disabled guests close to the reception. Paved paths, lit by night, lead from one's room to the reception and restaurant areas.

Laundry and babysitting services are available on request.

Dining, Relaxation, Wildlife Experience

There are two ponds that blend the whole environment, thus further promoting the peacefulness and serenity, which is an amazing feature of the Voi Wildlife Lodge.

Breezy well ventilated open-air restaurant.

Sundowner lounge to relax & end the day with an unbelievable sunset.

View wildlife from the game observation terrace open 24 hours a day.

Situated only three hours away from Mombasa giving Kenya beach holiday visitors a superb opportunity to get away for lunch or dinner and be back the same day or the next day.

While at the lodge relax at the pool or Jacuzzi.

Conference facilities available for up to 80 people and all necessary audio and video arrangements can be made.


Marc of Lyon ,France says
review for Lionrock Safari Lodge Date 26,04,2010
"We stayed at the lodge for our first night of a 3 night safari (staying in one of the rooms, not a tent). The rooms were clean and the food was good. The only downside was the drinks were a bit overpriced compared with the other lodges we stayed at (250 ksh here for a glass of lemonade). The pool is clean and very welcome after the dust of Tsavo East. There is a great veiwing platform for the watering hole, however at night there were so many insects the floor became a bit crunchy!!! . "
Write your Review click here

If you want a tailor made itinerary to Tsavo national Park please don't hesitate to contact us