Rhino Vally Lodge-Tsavo West Camps -Kenya Safaris
Rhino Valley Lodge Previously known as the Ngulias Bandas, Rhino Valley Lodge is set against the backdrop of the rugged but scenic Ngulia Hills, Rhino Valley Lodge offers the most idyllic view of the pristine Tsavo West National Park Which teams with wildlife – the lion, buffalo, elephant, cheetah, leopard, hippo, rhino and thousands of savannah wildlife. These can be viewed all year round the verandas of the camp's bandas as they frequent the water pond just a few meters below the camp.Rhino Valley Lodge's proximity to the coast – Mombasa, Malindi and Diani, makes it a perfect destination for those wishing to combine beach and bush experience in the same package. It's the ultimate safari experience.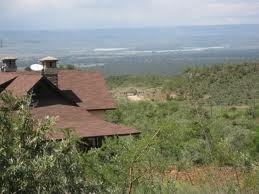 Rhino Valley Lodge is an unrivalled haven for those who love nature and a perfect retreat in the wild. The nights have their own unique ambiance, a pot-pourri of hundreds of different animal, birds and insect noises. The camp is designed to blend with the surrounding vegetation and landscape. From a distance, one may be forgiven for mistaking it for one of Ngulia Hills rock outcrops.
Accommodation;
Rhino River Lodge has six standard rooms, 10 luxury rock rooms, 6 self-catering bandas and a camp-site constructed to meet the needs of the discerning traveler. The rock room is one of the most unique 'caveman' indulgences you will not find anywhere else in the world.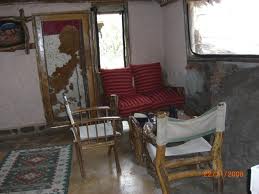 The self-catering bandas tastefully furnished with rugged twin beds, a well-equiped kitchenette, and a complete bathroom suite will provide with the comforts of home away from home.
The camp has modern gourmet restaurant with an elaborate menu specifically designed for those who love the out outdoors. It also prides a well stocked 'tree bar', another extra-ordinary experience under wide starry tropical skies and in the warmth of a campfire. The camp is lit by a super-silent generator that comforts to stringent international wildlife and environmental requirements.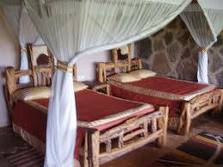 Facilities and activities;
In addition to the exotic early morning and evening game drives in the company of experienced tour guides, the Lodge offers nature walks and rock climbing up the Ngulia Hills. Here explore paths which were last trodden by the once famous Wangulia hunter and honey gatherers who roamed the expansive Tsavo wilds until the last century. The experience on the vantage tops of the rugged Ngulia Hills is unforgettable.


Victor of Sweden says
review for Rhino Valley Lodge Date 26,04,2010
"Perfect place to view wildlife. Staff are very friendly and informative. If you are lucky enough to meet John you will have a fabulous experience. He is so informative and full of knowledge. Stay up late to view all kinds of wildlife, leopards, elephant, lions and cubs, hyena. yes there are creepy crawlies and huge ones at that but who goes to Africa to not see the small five as well as the big five. A truly enjoyable experience hope to return again soon!. "
Write your Review click here

If you want a tailor made itinerary to Tsavo national Park please don't hesitate to contact us