Severin Safari Camp - Tsavo West-Kenya Safari Packages
Severin Safari Camp,Tsavo National Park with over 21,000 sq km of vast bush land is by far the largest national park in Kenya. The western part of the park is home of Severin Safari Camp (40 km from Mtito Andei), set amongst the volcanic landscape, with the fresh waters of Mzima and Kitani springs, and rich in wildlife.

The added attractions of Tsavo National Park are the historical poachers lookout, the stunning view of the El Turesh Valley, the roaring rocks, and the Tsavo River, which make a visit to the Tsavo National Park among the things to do while in Kenya.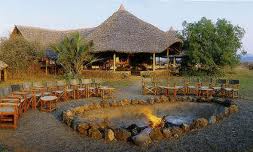 Accommodation;
A Swiss team manages the Severin Safari Camp.

Twenty, luxury "octagonal" tents, all with running hot and cold water, en-suite bathrooms with showers/toilet, bidet, comfortable beds with duvets, and mosquito nets.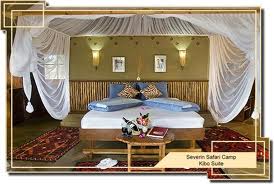 The VIP tent - the Kibo Suite comes with a luxurious bathtub and a private viewing terrace, which is perfect for honeymooners.

Early morning coffee and tea is served in your tent and an evening special tent service is available to your private veranda for cooler drinks.

The main building, which overlooks the lit up water hole, consists of the reception with international telephone facility, "Safari Boutique", the "Out of Africa Restaurant" with lounge and "Thorn Tree bar". The evening campfire creates the Out of Africa touch for that "away from it all feeling."

Special attention is paid to provide prompt and friendly service, and "camp cuisine" is on an a la carte basis.

Fresh water is supplied from the nearby natural spring and two "synchronized" generators supply power.

The Tsavo River serves as the main source of wildlife that is attracted to the vicinity of Severin Safari Lodge.


Omingo of Canada says
review for Severine safariLodge Date 06,04,2010
"We noticed how this camp is a little larger than some of the other places we had stayed, so is a little less intimate, but the staff were very friendly and the manageress made a point of personally welcoming us. Rooms are very luxurious, and we enjoyed walking around the camp's extensive path system on our own mini "walking safari" spotting baboons, warthog, Oryx and even distant giraffe and zebra.

Pool area is very pleasant and is a good size, massages recommended.

A minor negative for vegetarians is that their menu is far more limited than the regular one, so you've explored the veggie menu fully in a couple of days. . "
Write your Review click here



If you want a tailor made itinerary to Tsavo national Park please don't hesitate to contact us