Tsavo East National Park
Tsavo East National Park is Kenya's largest National Park covering an area of 11,700sq kms. It is across the highway from Tsavo West, located in Eastern and Coast Province, South East of Nairobi. It is a hot, waterless dry region with an annual rainfall of less than 51cm recorded, and has a large diversity of landscapes from the gorges of Lugard falls with its water carved rocks to the natural catchment at Muanda.
Tsavo East National Park is one of the world's largest game reserves, providing undeveloped wilderness homes to vast numbers of animals. A comprehensive list of the animal types found in Tsavo East Park includes the great herds of elephant, antelope, hippos, black rhino, buffalo, lions and giraffe plus a host of birdlife. It is an ideal place for exclusive camping, game circuits and adventures and is the greatest of all Kenya's parks. The middle section of the park has many rock and cave paintings.
The scrub-covered hills of the southern park have a very remote feel and the park, despite its great game, does not attract large numbers of tourists. The best game viewing is along the watercourses and at the Kanderi swamp, which is not far from the main Voi gate. Thirty kilometres from the gate is the Aruba Dam and lion are commonly spotted around here. The major attractions in the park are the Yatta plateau, Lugard Falls, Aruba Dam, Mudanda Rock, birds and mammals many others
---
Safaris To Tsavo East National Park
1 day Tsavo East
2 days Tsavo East
2 days Tsavo East Taita
2 days Tsavo East west
3 days Tsavo East west
3 days Tsavo East West Amboseli
3 days Tsavo East Amboseli
4 days Tsavo East West Amboseli
4 days Tsavo East West Taita
---
If you want a tailor made itinerary to Tsavo East don't hesitate to contact us

FACTS ABOUT TSAVO EAST NATIONAL PARK

Altitude: 200 m – 1000 m

Area: 11,747 km2

Distance from Nairobi: 333 km

Airstrip: 16 airstrips (4 graded)

Opened: April 1948

HIGHLGHTS

Spectacular scenery: Galana River, Lugards Falls, Aruba Dam & Mudanda Rock

Unrivalled bird watching: resident & migratory flocks

Fantastic scenery: lakes, tarns, glaciers & peaks
Game viewing: lion, cheetah, hyena, 'red' elephants

Easy access from the coast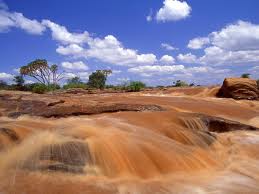 Lugard Falls
LOGDES & CAMPS: Voi Wildlife lodge, Galdesa camp ,Ngutuni Lodge, Ashnil Aruba
Tsavo East is one of Kenya's oldest and largest National Parks: covering approximately 40% of the total area of all of Kenya's National Parks. Its beautiful landscape and proximity to the coast make it a popular and rewarding safari destination.

LANDSCAPE

Tsavo East is accredited as one of the world's leading bio-diversity strongholds, bushy grassland and open plains alternating with savannah and semi-arid acacia scrub and woodlands. Green swathes cross the park where the river banks give rise to lush vegetation. North of Galana is a true wilderness.

With its fabulous light and unbelievable views the park is a paradise for photographers, in particular Mudanda Rock, which is a rock outcrop about 1.6 km long. The dam at the base attracts animals to come for water. Visitors can walk along the rock and enjoy a cool breeze as well as view wildlife at the base.

Enjoy more stunning views at the Yatta plateau, which is about 290km long and one of the worlds longest lava flows. Lugards Falls, a series of rapids on the Galana River, are remarkable for the shaped water-worn rocks. Accompanied by KWS Wildlife Rangers one can walk down to the river on foot to get a good look at the rapids while trying to spot the crocodiles, and to follow the river bed for a short while. The Aruba Dam was built in 1952 across the Voi River. The dam attracts many animals and especially water birds can be observed here.
GAME & BIRDS

Game includes: elephant, buffalo, rhino, lion, leopard, crocodile, waterbuck, kudu, gerenuk, and zebra; Aruba Hunter's Hartebeest can be seen with its Lyre-shaped horns.

Home to some of the largest herds in Kenya, the elephants glow red after dust baths, blowing the vivid red dust through their trunks over their bodies.

About 500 bird species have been recorded including ostrich, some migratory kestrels and buzzards which stop at Tsavo East during their long flight south.

Read on for more information about TSAVO- WEST